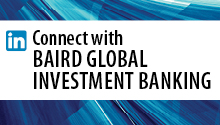 Learn more about our approach via the following video testimonials and transaction case studies.
Video Testimonials
DTLR
Baird is proud to have served as the exclusive financial advisor to DTLR on its recent sale. DTLR is a lifestyle retailer that provides one-stop shopping for street-inspired footwear, apparel and accessories to young, trendsetting multicultural audiences. Learn more about this transaction.
Rip Curl
Baird and Gresham Partners teamed as co-financial advisors to Rip Curl. Offering a unique global insight and expertise into the industry and market, we were able to offer invaluable advice to Rip Curl. Learn more about this transaction.
The DMC Group
Justin Wraight, CEO of The DMC Group, shares how Baird was the right partner for him and his management team as they faced a seemingly daunting sell-side process. Through true partnership, Baird helped the company achieve a successful outcome.
Revolution Dancewear
Joe Sclafani, CEO of Revolution Dancewear, shares how Baird's sector knowledge, execution expertise and collaborative approach found the right partner to help Revolution execute the next phase of its growth plan.


Bucketfeet, Inc.
Raaja Nemani, Co-Founder of Bucketfeet, Inc., on how Baird's understanding of his vision and deep knowledge of potential buyers helped him grow his business.



Batteries Plus Bulbs
Russ Reynolds, CEO, discusses how Baird Global Investment Banking's honesty and work ethic facilitated the sale of his business.



Lucky Strike Entertainment
Steven Foster, CEO of Lucky Strike Entertainment, on how Baird's experience, culture and commitment helped him grow his business.



Baird's Commitment to the Sportsman Industry
Baird's Sportsman clients share thoughts at the 2018 Shot Show Reception on how Baird continues to be a market leader in the sector.
Case Studies